Art Direction, Branding, Design
The Assembly, envisioned as a coffee, retail and community space, required branding that could encompass (and apply itself) to all different facets of the brand.
Logo explorations and a brand and style guide were delivered, along with digital, print and social assets.
Photography guidelines were established—natural lighting with cooler tones, soft contrast and low saturation—to create a minimal yet elevated brand presence.
Final Logo and Brand Guide
Brand guide, with logo lockups and rules, type pairing explorations.
Publication/zine cover mockups explored how the brand identity could exist over different image assets spanning fashion, food, music, art, interior/architecture and lifestyle themes.
Website — theassemblycafe.com, Facebook Page
A simplified, user-friendly scroll website was chosen to represent the online web presence. Since The Assembly is a physical store and experience, the website and Facebook page (if being the first consumer touchpoint from a Google or Yelp redirect, for example) was envisioned to highlight the brand, concept and products simply, to encourage final drive-through to the in-store experience.
Social Media : Instagram
The Assembly, upon opening, drew substantial attention from Influencers, hence the focus shifted primarily to Instagram in the social sphere, as it became the most effective platform for our targeted demographic and audience.

Instagram content highlighted beverage, food and retail in lifestyle-driven shots. All images were created and shot in-house, and staged to offer glimpses into the interior space and the in-store experience. Additional content such as art, architecture, or inspirational images were also chosen intentionally to connote a sense of brand culture and aspirations.


Stationary, Menus
1. Business cards with interchangeable backs highlighting product offerings
2. Owner's business cards
3. Letterhead
4. Beverage and food menus.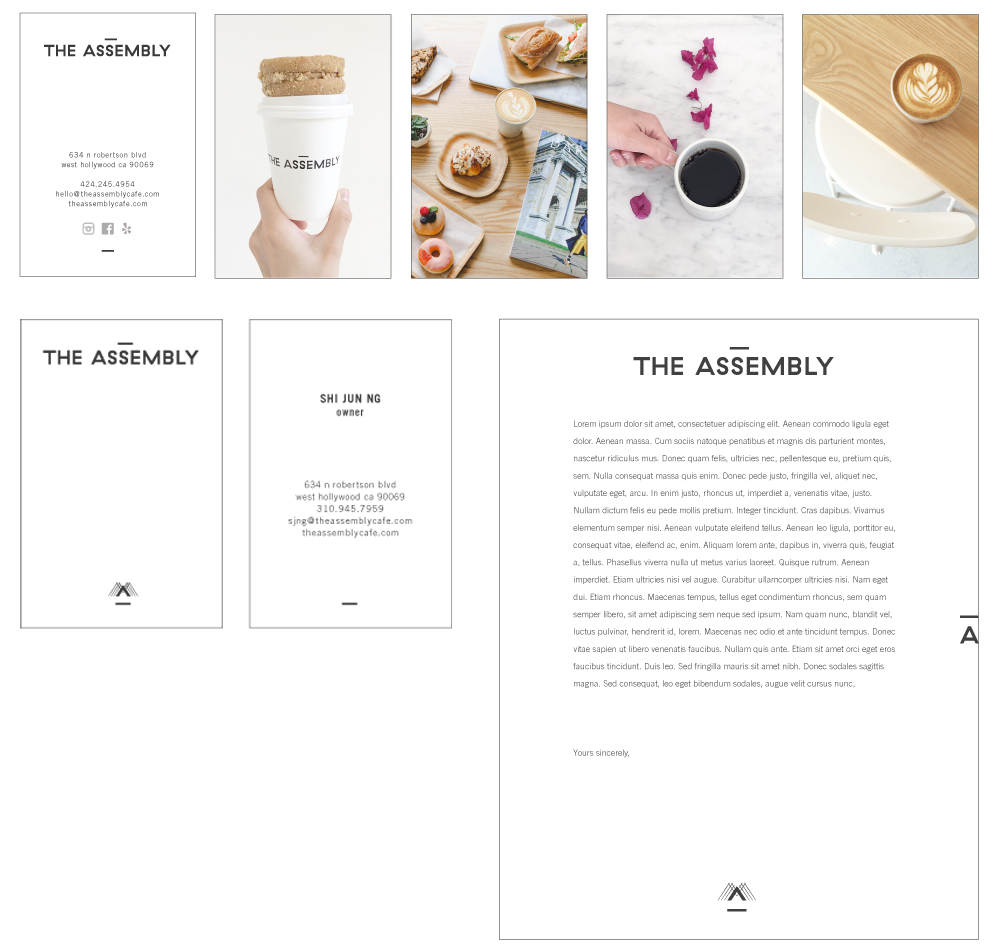 Packaging
1. Custom cup stamps.
2. A seasonal coffee sampler box, with box sticker and labels for individual bean pouches.
3. Chocolate bar in collaboration with Letterpress Chocolate, a local Los Angeles bean-to-bar chocolatier.
Printed Collateral
1. Direct mail postcard
2. A "Summer Specials" poster and event booth placard.
3. Rack Cards for catering orders.
---
All content © 2023 Shi Jun Ng